Commercial Carpets
Check out our extensive range of carpet flooring to suit your business

Luxury Residential Carpets
Our carpets are crafted with premium materials, providing a soft and luxurious underfoot experience
Why Choose Our Mountain & Cowell Carpets?
Transform Your Home And Commercial Carpets With Your Own Unique Choice Of Comfort and Style!
Experience the ultimate in comfort, warmth, and style for your living and commercial spaces with our extensive Mountain & Cowell carpet collection. Our carpets are meticulously crafted to bring a touch of luxury to your home, creating a haven of softness underfoot.
Unparalleled Comfort: Sink your feet into the sumptuous softness of our carpets. Every step feels like a gentle caress, providing a cosy and inviting atmosphere throughout your home.
Stunning Selection: From classic patterns to modern designs, our extensive range offers something to suit every taste and interior décor. Choose from a myriad of colours and textures to find the perfect carpet that reflects your personal style.
Exceptional Durability: Our carpets are engineered to withstand the demands of everyday life. With superior stain resistance and long-lasting quality, they are built to endure years of foot traffic while maintaining their impeccable appearance. Experience the difference today!
Call us today on 01253 732 273 to find out more!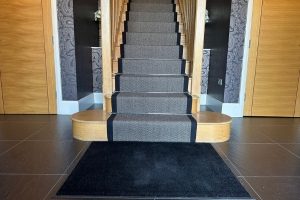 Your Choice Of Carpet
At Mountain & Cowell Flooring, we take pride in offering high-quality carpets that surpass expectations. Whether you're searching for residential or commercial carpets, our extensive selection and exceptional customer service will ensure a seamless and enjoyable experience.
That's because Mountain & Cowell have traded since the 1950's and over this time we have built up a reputation synonymous with quality. We hold prestigious accounts including Axminster Carpets, Brintons, Victoria Carpets, and Alternative Flooring to name but a few. Working with these suppliers allows us to supply and fit carpets that will not only look good but will make a statement in any home or commercial premises.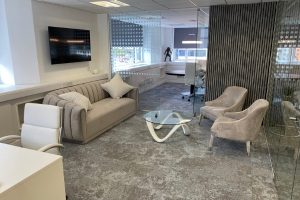 Commercial Flooring
Since 2015 Mountain & Cowell has be working within the commercial sector to supply and fit all types of commercial flooring ranging from hard-wearing carpets, carpet tiles, to safety vinyl. We have the ability to customise any floor to any design, incorporating logos into entrance matting, or having photos or designs printed into commercial carpets …the possibilities are endless.  If you would like to stand out from the competition then we can help you from the floor up!
Contact us today or visit our Mountain & Cowell Flooring showroom in Lytham St. Annes to "Test The Difference" and explore our wide range of carpet options, and consult with our knowledgeable team. From our affordable budget range of carpets to luxurious options, we have the perfect solution to suit your style, budget, and specific requirements.
                               We've always got you covered… Because we care!
01253 732 273 - Call today