Luxury Vinyl Tiles (LVT)
Elevate your home's elegance with the perfect blend of style and practicality

Transform Your Home With Your Choice Of Comfort and Style!
Our premium Luxury Vinyl Tile (LVT) flooring adds a touch of sophistication to your home or commercial space
Why Choose Our Mountain & Cowell Luxury Vinyl Tile (LVT) Flooring?
Unparalleled Beauty and Style – Elevate Your Spaces with Exquisite LVT: Experience the transformative power of our LVT and elevate the beauty and style of your home and commercial spaces. From captivating wood to elegant stone look flooring, our LVT collection offers stunning designs that reflect your unique taste and personality.
Durability and Resilience – Enjoy Floors That Withstand the Test of Time:        Invest in durable and resilient flooring with our LVT. Highly resistant to scratches, stains, and impacts, our LVT ensures long-lasting beauty and performance, even in high-traffic areas. And LVT is great for people who suffer from allergies.
Easy Installation and Maintenance – Effortless Beauty and Convenience:               Our luxury vinyl tile flooring offers our own trained expert and hassle-free in-house fitting installation options. Once installed, minimal maintenance is required, allowing you to enjoy beautiful and pristine floors and long-lasting performance without extensive upkeep.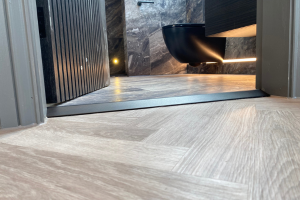 Experience The Superiority Of Mountain & Cowell Luxury Vinyl Tiles In Your Home Or Commercial Premises …and discover a flooring solution that surpasses your expectations and delivers exceptional benefits without a hefty price tag or demanding upkeep. With a wide range of appearances from wood to stone, you can transform your home or business environment to reflect your unique style and leave a lasting impression.
Enjoy our Mountain & Cowell LVT flooring time-saving solutions that withstand life's demands and simplify your life and less time worrying about floor care. Meaning they're designed for easy cleaning and upkeep allowing you to effortlessly maintain a pristine appearance.
Choose Mountain & Cowell for our LVT collection that provides your with the ultimate combination of style, durability, and convenience to ensure your flooring looks stunning for years to come. We've always got you covered, so visit our Mountain & Cowell Flooring showroom and "Test the Difference" …because we care!
01253 732 273 - Call today